Most Killarney people trace their Native roots through Anishinaabe ancestors: the  Ojibwe (also called Chippewa), the Odawa (also called Ottawa), and the Pottawatomi. These pages focus on the history and culture of those tribes, who formed an alliance called the Three Fires Confederacy many years before our most recent ancestors settled around Lake Huron.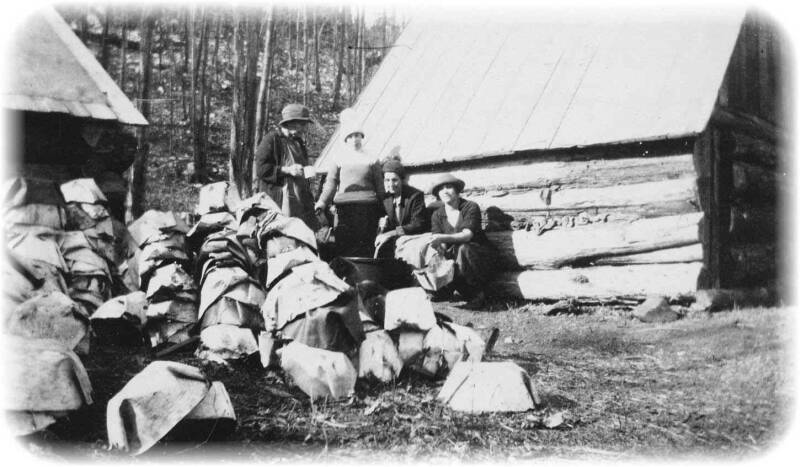 Site visitors who are seeking official recognition of their aboriginal ancestry may find useful the publication Guide to Completing Applications for Indian Status or Metis Status, now available by mail order.

Please note that where the Guide deals with Metis Status, the regulations pertain to the Metis Nation of Ontario. Applicants seeking recognition through a province other than Ontario should check with that province's Metis Nation about requirements and guidelines for membership.

Above: At the sugar camp of P.R. and Virginie (Miziwek) de Lamorandiere. Pictured outside the boiling shack are Virginie (left),  Ernestine Haitse (also standing), and two of Virginie's granddaughters: Marcella and Stella Proulx. The piles of baskets in the foreground of the photograph were hand made, of birch bark, and used for gathering sap. This photograph was taken about 1918.